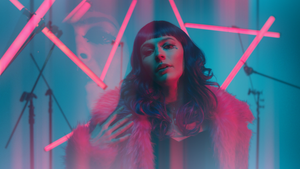 "

Exciting and Otherwordly Talent" - Extra TV
(❁´◡`❁)(musical) artist & alien luver.  
Meresha is a multifaceted artist, hailing from a realm that blends talent, innovation, and a touch of the extraterrestrial. With a soulful voice that resonates across galaxies, she's not just a singer but a creator, performer, multi-instrumentalist, DJ, and producer. She's the pioneer of the #AlienPop genre, a sound that's like pop but with an otherworldly twist.
Key Achievements:
All-around Artist: Meresha writes, performs, and produces her music, both solo and in collaboration and DJs techno/dance music.
Intergalactic Recognition: She's charted on key intergalactic music charts, including the prestigious Billboard album, single, radio, and artist charts, with Earthlings blessing her with over twenty million listens.
Awards & Recognitions: Victorious in the MTV "Freshman" competition, her album "Enter the Dreamland" was hailed by AllMusic as a top 20 album of the year globally. Grammy winners have shaped her music, and she's now a Grammy voter.
Collaborations & Partnerships: Shared stages with stars like Marshmello and Adam Lambert and worked with brands like Disney, Casio, Shure, Adobe, Citibank, Crocs, and Live Nation.
Live Performances: Graced festivals like SunFest, Mondo, and GovBall (Citi Stage) and headlined venues like Hollywood's Hotel Café and Brooklyn's Knitting Factory.
Innovations: An early adopter of live virtual reality concerts with full body-motion capture and a mover in the NFT space for musicians.
Praise from the media include Extra TV calling her "an exciting and otherworldly talent" and Indie Music Monday predicting, "she is going to be huge."